The Bebb Quartet
The case of Bebb v The Law Society (1913) was the test case for admission of female lawyers. Initiated by four extraordinary young women, who took on the legal establishment just before the First World War.
In 1913, Gwyneth Bebb along with Maud Crofts, Karin Costelloe and Nancy Nettlefold, who had all studied law at Oxford or Cambridge, sued the Law Society claiming that they should be allowed to take the preliminary exams needed to become solicitors. Although Bebb v The Law Society was unsuccessful, it generated a lot of publicity for the campaign leading to women eventually being admitted to the profession in 1919.
The introduction of the Sex Disqualification (Removal) Act 1919 was a landmark moment in opening up the profession to women and much has been written about it. However much less is known about what happened to the four women who instigated this tumultuous change and the extraordinary lives they went onto lead.
Gwyneth Bebb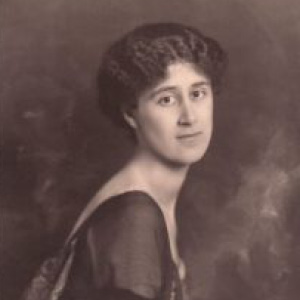 The lead litigant, Gwyneth Bebb, was born on 27th October 1889, the third of seven children to the Rev. Dr Llewellyn Mountford Bebb and his wife Louisa, who was a surgeon's daughter. In 1908 she went up to St Hugh's Hall, Oxford to study jurisprudence.
The choice of law for a young woman from a humble background was a brave one given that women were not even entitled to be awarded degrees by Oxford at the time. Gwyneth would have been subject to the chaperonage rules of the time which meant she could not go out by herself to lectures, be left alone with a man or leave college without a hat.
She went onto pass her law finals with First Class Honours – the first female student at Oxford ever to do so despite the fact she could not be awarded the degree. However, with stalwart determination, this was not to put her off pursuing her dream of becoming a lawyer.
Having married another solicitor, she wasted no time submitting her application to Lincoln's Inn, the day after the passing of the Sex Disqualification Act on Christmas Eve 1919, and having just given birth to her first child Diana. The Daily Express described her as "a clever and attractive young Welshwoman" likely to be the first woman called to the English Bar.
While working and studying for the bar, she became pregnant again in early 1921 but experienced significant complications this time. She suffered from a condition called placenta praevia which led to her haemorrhaging during pregnancy.
Tragically Gwyneth lost her second daughter Marion two days after giving birth and then suffered a post-partum haemorrhage and died two months later of a cardiac arrest, just a few days short of her 32nd birthday. It was a tragic ending to such a promising career at the bar.
Karin Costello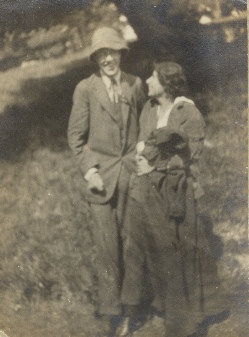 Karin Costelloe was born on 11th March 1889, the younger daughter to Mary Berensen who came from a prominent American Quaker family and her Irish barrister father Francis Costelloe. However, her mother became disillusioned with the marriage early on and left the family home, when Karin was very young, to follow art historian Bernard Burton to the continent, where a passionate but initially clandestine relationship ensued.
Her father died when she was just ten years old and Karin and her older sister were brought up, by their maternal grandmother. It was a very difficult start for such a young child which, not surprisingly, adversely affected her later life.
Winning a scholarship to Newham College, Karin went up to Cambridge to study in 1907 but she left after a year, due to various health and personal issues. In 1909, she returned to Newham and received a First class degree in Moral Science in 1910 and in 1913, she became a Fellow of the college.
It is not clear whether Karin ever really intended to become a lawyer or was encouraged to do so by her older sister, feminist politician and women suffragette campaigner, Ray Stratchey, to join the campaign for women to be able to become lawyers and become a litigant in the test case of Bebb.
As a conscientious objector, she spent the war years working on a farm with her husband Adrian Stephen who was Virginia Woolf's younger brother. They both became interested in the work of Freud and after the war, agreed to study medicine with the intention of then training to become psychoanalysts.
On qualifying, Karin worked in a psychiatric hospitable before entering private practise as a psychoanalyst and gave the first ever course of lectures on psychoanalysis at Cambridge University which was highly successful. Karin and Adrian had two daughters.
However, it is reported that Karin suffered increasingly from severe deafness and manic depression. Following the death of her husband in 1948, her health deteriorated and she tragically committed suicide in 1953. She will be remembered for not only making a significant contribution to the early development of psychoanalysis but also for her writing on moral philosophy.
Maud Crofts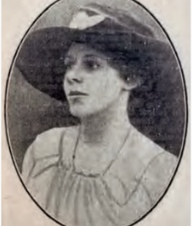 Maud Crofts was born in 1889 and was one of twelve academically gifted children of a barrister, Thomas Lewis Ingram, and his wife Victoria Skinner. She was educated at Girton College Cambridge where she obtained honours in both the History and Law Tripos and was awarded a Tennis Blue.
During the war years, Maud gained experience in a solicitor's office and in June 1922, just six months before sitting her final exams, she married another young solicitor, John Cecil Crofts, who worked in the same law office. In the same year, Maud with three other women – Mary Pickup, Mary Skyes and Carrie Morrison – became the first women in England to qualify as solicitors.
During her long working life, Maud specialised in family law but was also determined to encourage women to understand their legal rights. She often wrote and spoke about these issues and in 1925, published the first book of its kind called Women under English Law. She also became legal advisor to the National Council for Unmarried Women.
Maud, unusually for women at the time, worked throughout her marriage and while her children were growing up. She practised as a solicitor until she was sixty-six and both her daughter Rosemary and granddaughter Mary followed her into the legal profession - becoming England's first three generational family of women solicitors.
Nancy Nettlefold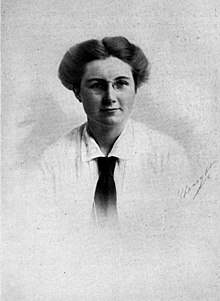 According to her biographer Ardenne Tredgold, Nancy Nettlefold had already decided by the age of 12 that she would read law at Newham College with the aim of becoming a solicitor. She believed passionately in women's suffrage and in her late teens, would argue the cause from a soap box on a London street, while her sister distributed leaflets.
In fact, Nancy went on to study law at Girton and then was unofficially articled to a firm of solicitors in Lincoln's Inn. However, sadly events intervened which led to a dramatic change in her life's course. The health of her father, Oswald Nettlefold and director of the family hardware business in London, started to fail and Nancy was asked to join the family firm as Director and Company Secretary.
Moved by a strong sense of duty and responsibility, Nancy gave up her legal aspirations and devoted the rest of her life to help run the family business. Although a legal career was now denied to her, she continued to promote women's rights through public appointments, with a particular interest in women's education and employment rights. In 1944, she joined the Royal Commission on equal pay and served on a great number of public committees, including the board of the Elizabeth Garrett Anderson Hospital.
On retirement, she emigrated to South Africa but her strong sense of injustice meant she was never going to retire quietly. She felt very strongly about the injustice caused by apartheid and her biographer says that; "She attended every protest meeting and political meeting she could, sitting usually in the front row, and thumping her stick when she felt the speaker had made a good point".
The Legacy of the Bebb Quartet
Today women make up more than half of the legal profession and are making slow but steady progress to become partners, senior counsel and judges. However, we owe a great deal to these early women lawyers and pioneers who were prepared to take on the legal establishment just over 100 years ago.
Although only two of the four women went on to train as lawyers, they were all passionate about promoting the rights of women and made significant contributions in other professions such as medicine and business. We need to remember their vision, sacrifice and spirited perseverance which undoubtedly paved the way for generations of women to come, in law and the other professions.
Tilly Rubens
December 2020