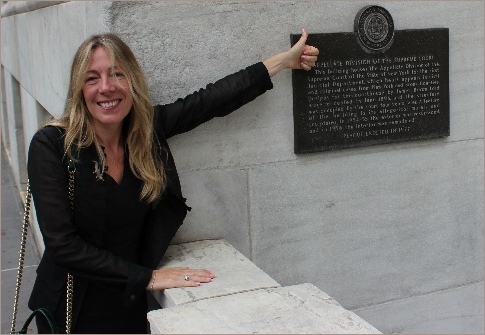 Amber Melville-Brown, explains her legal career path from studying modern languages to qualifying in both England & Wales and at the New York Bar. She is Global Head of Media & Reputation at Withersworldwide.
"Look Granny, 'Gas'!" Before I was old enough to read, I read my first word. "G A S" - three little letters on a large billboard, spied as we sped by. Not a very poetic start perhaps, but a love of reading and writing, language and communication followed, leading me down the word-strewn path towards my ultimate destination as a media and communications lawyer.
The ladies in my life encouraged and inspired me. Granny - helping our mother to raise my twin sister and me - was wont to wake in the middle of the night, a poem fully formed in her head to be scribbled down in the dark and recited to us the next day. Our mother progressively lost her hearing from her 30s yet the written word assisted her as subtitles, and befriended her as the harbinger of news and politics.
To bastardise Bill The Bard, some are born lawyers, some happily achieve admission, and some have the law thrust upon them. If Shakespeare's premise is correct, I am likely a combination of the last two. I read modern languages at University College London, followed by a conversion course at the (then College, now) University of Law in London. My university boyfriend – and wait for it, this is more empowering than it sounds – was studying law and it occurred to me, "If he can do it, I can do it". He did, and I could.
Term time for two years saw me studying hard at my conversion courses; holiday time saw me working hard both as a cleaner to pay the bills, and with a spot of work experience to consolidate my view that the law was right for me. I emerged sure that it was, and with the common professional exam and the Law Society finals exams in my pocket was able to bag myself a training contract at West End law firm Simons Muirhead & Burton. My first post-qualification job was at media boutique firm, Stephens Innocent. Under the tutelage of my mentors Razi Mireskandari and Mark Stephens CBE, I learned and honed my passion for media law. I consider myself no less the lawyer for having taken this circuitous route. Indeed, taking the path less well-trod may make us more rounded as a result.
I roundly adore media law. With every libel read, every advice about media intrusion, every defamation complaint made, confidentiality agreement drafted, blackmail threat or harassment campaign curtailed, my passion for media law grew. As did my desire to share it with the wider world. And I was rewarded in this with the opportunity to be the media law columnist for the Law Society Gazette.
'Educate, inform and entertain' became John Reith's mantra for the BBC, and I have sought to do the same in my legal writing, both then when newspapers were finite and one's name in print was an unusual excitement, and now when the wide open spaces of the Internet are endless, and where everyone with a phone is a publisher and a paparazzo.
I had the opportunity to pay back the College of Law that taught me, being invited to create and teach its media law course. I also lectured at the London School of Economics. Both posts allowed me to give some practical guidance to aspiring lawyers, and to show students that whatever their background – and I came from humble, hard-working, working class roots, my twin sister and I the first in our family to go to university – that dedication and determination, as well as empathy and a dash of humour, can pay dividends.
"Ah, but a man's reach should exceed his grasp, or what's a heaven for?' – Robert Browning's words, heard at Granny's knee, encouraged me to strive for excellence in teaching, writing and advising, but also in expanding my personal horizons. And this led me to perhaps my most daring challenge. Having seen the summit of my chosen legal field in England and Wales, I turned my envious eyes across the Atlantic and to the prize of dual-qualification.
I've scaled real mountains: heaving myself up a hot Mount Sinai on holiday; taking on the Three Peaks Challenge for charity; helping a wheelchair user up Ben Nevis in a fund- and awareness-raising endeavor. But heading back to academia, obtaining a US Masters Degree (required to cure my "deficiency" of having the temerity of originally studying languages, not law) and sitting for the New York Bar Exam is not for the fainthearted. But the view when you get there is grand.
Attending New York's Fordham University School of Law as a mature student allowed me to mingle with international students with diverse backgrounds and at various stages of our careers. But this pleasure and privilege was countered dramatically by the pain of the Bar exam. They say least said soonest mended, so best to say little about the Bar Exam, save that if you are considering it you may need a touch of the masochist about you.
I have found my professional home and family at Withers. Now as an admitted New York attorney and an English solicitor I am embracing the challenge of launching my firm's global media and reputation practice, once based "over here" in England, "over there" in the United States. Providing a 24/7 global crisis and media management service to our clients is a reach that was, after all, within my grasp, and perhaps Browning, and certainly Granny, would approve.
If you are good at and love what you do, you've done it. If you are thinking about writing about what you do, do it: to educate, inform and entertain is a joy. If you are pondering a spot of teaching, do it; there is no better way to learn your subject deeply than by having to explain it to someone else. And if you are considering leaping into another field or jurisdiction, do it; you may be taking a leap into the unknown but there will always be someone there to catch you – and that person will be you.
November 2020