Jumana Rahman reflects on her legal career from high profile litigation cases to building a team Cohen & Gresser. She considers her experience as a woman in law and offers advice for those coming into the profession.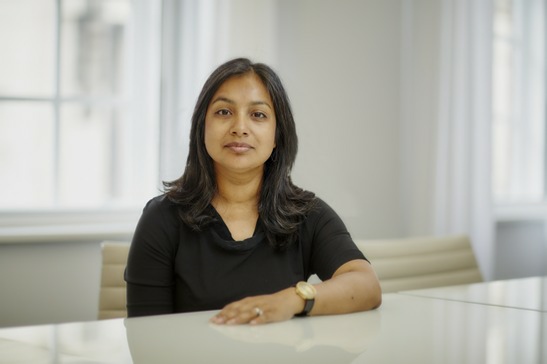 The Family Business
Nobody in my family had ever worked in the law, instead I came from a family of doctors which was quite common for immigrants from Bangladesh. My parents had moved to this country in the early 1970s for my father's studies and then to wait out the bloody war between Bangladesh and Pakistan.
My act of rebellion was to refuse to study medicine as my parents expected. I still wanted a vocational subject which combined the discursive quality of arts with the precision of science subjects. Law seemed to embody both of those qualities. I applied to study law at Cambridge rather than medicine and my younger sister ended up doing medicine, so my parents got their doctor.
As I had no connection with the profession, I didn't understand what being a lawyer was like outside of what I'd seen of lawyers in court in TV dramas like LA Law. I wrote to law firms seeking work experience to understand exactly what kind of law I wanted to do. I realised that I liked complex, international work and applied for training contracts on the basis that the firms I applied to had international offices.
I joined Lovells for my training contract and was fortunate that my first seat was in the fraud and insolvency litigation department. The firm was taking on some of the biggest and most high-profile cases. I worked on large corporate collapses, including that of BCCI, and got bitten by the international litigation bug. I liked being involved in multi-party, multi-jurisdiction, high stakes and high octane cases.
Next Steps
After Lovells, I moved to a smaller firm to get more responsibility. One of the cases was a judicial review against Customs & Excise for Hoverspeed. People were entitled to bring back a certain amount of cigarettes and alcohol from the Continent without paying duty as long as it was for their personal use. We contended that Customs & Excise was being overly aggressive in the way they were confiscating goods they alleged were for resale. We took on a government agency in a specialist area of law and won. The case ended up being on the News at Ten and I was quoted in The Sun!
I then moved to Latham & Watkins and worked on another big judicial review for the London Metals Exchange, defending a case brought by Rusal which was owned and controlled by Oleg Deripaska. Rusal brought a claim against LME alleging that their proposed changes to its warehousing rules were irrational and unreasonable. It was a case that was going to have a significant effect on the worldwide aluminium market, so it became quite a high profile case which we went on to win in the Court of Appeal.
A New Challenge
In 2019 I decided it was time for a fresh challenge and joined Cohen & Gresser to build a commercial litigation and arbitration team in London. The idea of growing something that you and others have started and built together was a really attractive challenge.
Then the pandemic came, and we had to adapt to the circumstances. We weren't able to attend conferences and get out there as we sought to build up the business and the brand. Luckily Cohen & Gresser is very agile, and we don't need to go through multiple layers of red tape to make decisions. We have been building a team from the ground up and recruited a team of people that are all focused on a common goal.
Now we are back in the office, I am loving working in Mayfair. Having worked my entire life in the city, I have to say Mayfair is a much more interesting place to be.
Legal Women
I try to do my bit for women in the profession as when I was starting out there were very few women in senior positions, and we weren't even supposed to wear trousers.
As I became more senior, I really tried to focus on initiatives that were designed to rebalance that. I co-led a women's group at Latham for many years that would hold networking events and provide support and training for junior women. I went on to co-chair Network for Knowledge, a group that was set up for senior women in legal and compliance in big law firms and investment banks. I have done quite a bit of mentoring through various schemes and at Cohen & Gresser, we have a very active women's group in London.
I think the battle for legitimacy has been won, and everyone now understands the business case for diversity. But that's not to say it has been achieved by any means. There is still a depressing lag when it comes to women being retained and promoted by firms, particularly when they have children.
Advice for the Next Generation
My advice to women coming into the profession is it is very important right from the beginning to be thinking about developing networks and ensuring that you are visible and present. If you are in the fortunate position of having a choice over where you want to work, do your research into a firm's track record and get an idea of whether it is a hospitable environment.
Don't be too prescriptive about the exact kind of work you want to do; sometimes happenstance can take you in exciting directions. Remember that an entrepreneurial and curious spirit will stand you in good stead. Lastly, ensure that you look after your mental health. Law can be an intense profession so be kind to yourself.
Jumana Rahman
Cohen & Gresser
February 2023