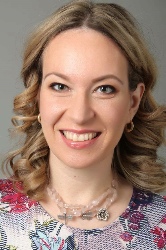 Jelena Madir's unique career combines academia with legal advice to Gavi, the Vaccine Alliance. Gavi's mission is to leave no country behind on immunisation programmes and to ensure equitable and sustainable use of vaccines across the world. Jelena joined as General Counsel in 2019, so it wasn't long before the pandemic hit and COVID vaccinations became a priority.
My career in law began when I had to choose between law and business school. In the US, where I went to university, you can only study law as a graduate degree. Towards the end of my university studies, I was debating between business school and law school, and since I was not particularly good at math, the choice became clear. I did quite well on the law school admission test (LSAT) and went to Columbia Law School.
My career path has been very varied. Since Columbia, I have practiced law in the US, Germany, Croatia, the UK, and Switzerland. I found that not all jurisdictions offer many opportunities for foreign-qualified lawyers. For example, Croatia is a very small market with hardly any international law firms, so I found options to be limited in such an environment. However, becoming qualified in a second jurisdiction as a lawyer enables you to practice law and advise clients in more than one jurisdiction and from the perspective of more than one set of laws.
I've also practiced both in-house and in private practice. I've found that working in-house allows you proactively to develop in-depth knowledge about the organisation to a greater degree than may be possible for private practice lawyers, who are instructed reactively on specific matters, usually for a particular area of the business. As an in-house lawyer you can therefore become integrally involved in one organisation by supporting a whole range of its activities, changes and developments over a period of time, and really see how your legal input contributes to meeting business objectives and protecting the organisation's assets or interests. By contrast, private practice lawyers will be advising a range of different organisations, although most likely in relation to a particular area of expertise – e.g., intellectual property, litigation or specific transactions.
On the flipside, being part of a company's in-house legal team can often have its limitations with a flatter structure and less room for progression.
A few years ago, I moved away from private practice, and I now balance my time between teaching at the University of London and as General Counsel at Gavi, the Vaccine Alliance. The University of London courses that I teach are distance-learning courses and the biggest part of work involves designing the Study Guides. I quite enjoy conceptualising and drafting things from scratch, so this was an enjoyable process. Once this is done, the bulk of work includes updating the Study Guides every year, setting exams, grading and commenting on them, so it is not as heavy of a commitment as if I had to teach a live course on a weekly basis. On the flipside, it is also not as rewarding as teaching a class of students, which I did for several years at UCL – you really get energised by students' questions and in-classroom discussions.
I started at Gavi in 2019 as General Counsel, and the role turned out to be immensely more challenging than I first imagined because of the Covid-19 pandemic. In the summer of 2020, Gavi was tasked with setting up and managing the Covax Facility, which is essentially a global risk-sharing mechanism for pooled procurement and equitable distribution of the Covid-19 vaccines. This is a project of huge scale, enormous complexity and significant legal risks. It includes agreements with over 150 governments, guarantees from a number of countries and commercial banks, advance purchase agreements with a number of pharmaceutical companies, procurement agreements with UNICEF and Pan American Health Organization, and a range of financing agreements with a number of multilateral development banks.
When we started conceptualising Covax in June 2020, we did not really have the requisite skillset in the legal team for this type of project, which is quite different from Gavi's "business as usual" work, as it involves securing vaccines not only for the poorest countries funded by donations, but also for a large number of self-financing countries in the upper-middle income and high-income brackets. Many of these countries are Gavi's long-standing donors and are represented on Gavi's board, but they were joining Covax as self-financing participants and therefore we had to negotiate with them as with any commercial partner. This required a significant shift in the mindset of colleagues who were used to working with a much smaller set of donor governments and quickly had to become much more alert to the risks involved in working with a much wider pool of sovereigns.
The intense work on Covax has meant that, more than ever before, we have had to be adaptable, comfortable with risk and business focused.
My top 3 tips for getting the most out of your career:
● If you're a student, or still forging your career path, take as many practical courses and do as many externships/work placements as possible. Once I had decided I would specialise in commercial law, I took every single practical course that was on offer at Columbia Law School – from contract drafting to negotiations and deals workshops. I also externed for a New York judge and participated in the Lawyering in the Digital Age Clinic. These practical experiences, which were offered as part of regular coursework, really helped me understand what my day as a practicing lawyer would be like.
● My advice for anyone who wants to practice internationally would be to pick an area that lends itself to international work, such as banking and finance, capital markets, corporate/M&A, arbitration, antitrust, projects/infrastructure and international trusts.
● Finally, those who want to work internationally and are interested in the field of public international law (which governs relations between different nation states and regulates the operation of international bodies) may also consider a career in public international organisations, which benefit from jurisdictional immunities.
Ultimately, throughout my career, I found working as a lawyer to be incredibly intellectually rewarding – lawyers are problem-solvers and innovative thinkers whose work is crucial to negotiating agreements and successful business transactions, interpreting and drafting legislation and shaping policy initiatives.
Jelena Madir – General Counsel, Gavi
For more information: