THE UK MAGAZINE FOR ALL WOMEN WORKING IN LAW
Legal Women Magazine Equality, Diversity and Inclusion
Legal Women magazine and resources are free, join the community here to keep updated
©Copyright 2022 Legal Women Magazine and Benham Publishing. Images accredited to all contributors or Unsplash or Pixabay.
First female judge on Pakistan's Supreme Court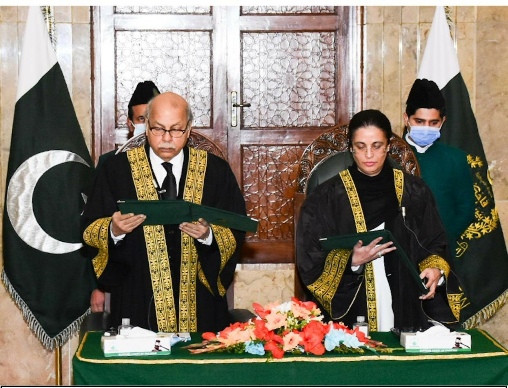 Ayesha Malik sworn in as first woman SC judge Copyright Express Tribune Pakistan
Ayesha Malik has been sworn in as the first female judge on Pakistan's Supreme Court, where she will serve alongside sixteen men. She was educated at Harvard University and has served as a judge in Lahore High Court. She signals a 'defining moment' for a country and a judiciary that is male dominated. She is already credited with challenging patriarchal legal conventions such as outlawing examinations designed to determine a woman's level of sexual experience and virginity tests in sexual assault cases.
The Human Rights Commission of Pakistan celebrated her appointment in these terms:
"As the first woman judge appointed to the apex court in the country's judicial history, this is an important step towards improving gender diversity in the judiciary, where women reportedly account for only 17 percent of judges overall and just under 4.4 percent in the high courts".
The news source Al Jazeera celebrates Malik's appointment as a 'defining moment', but relates how her appointment has been frustrated along the way by claims that she 'jumped the queue' of more senior candidates for the post, and a report that the Pakistan Bar Council even staged a strike against Malik's nomination. Interviewing lawyer and women's rights activist Khadija Siddiqi Al Jazeera reports her as saying Malik "has broken all barriers in the judicial system and it will allow other women in the system to move forward".