Courtney Plank qualified as a solicitor with a high street legal aid practice, before working as a childcare solicitor in local government. After a successful career, she decided to qualify as a tourist guide and is a founder member of Six in the City walks.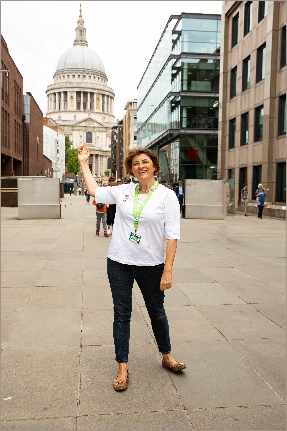 I was brought up in London and studied English Literature at Sheffield University, which I loved. There are no lawyers in my family but I found that lots of the voluntary groups, I was involved with as an undergraduate, seemed to involve meetings with solicitors who were advising and helping us, so I thought law would offer interesting options and work. I was then pleased to realise the one-year conversion course was an option; that brought me back to London where I studied at what was then called the College of Law at Lancaster Gate. About 15 years ago, I also completed the Child Studies MA at King's College in London.
My training was in a high street legal aid firm in Dalston, East London, with a mixture of civil, family, criminal and non-contentious work, and I stayed on for a couple of years post-qualification. It was initially a bit of a culture shock, but I liked the high level of client contact and becoming quite involved in their lives, and legal aid in those days enabled you to take on a wider range of cases than it does now. There were lots of highly committed young people working there; I think we were pretty broke much of the time, but don't remember minding!
However, I spent the bulk of my working life as a childcare lawyer in local government. This work was always interesting, and for most of my time offered a mix of office work and advocacy. Our clients were the social workers; a hardworking, multi-skilled group who have to make difficult work decisions. Highlights were when cases resulted in children having far better potential outcomes from before either because cases had resulted in changes within families, or new homes had been found, including within the wider family.
The work is stressful; you can never ever turn work away, even late on a Friday before a bank holiday! Litigation means your opponents (and often the judges) can often be somewhat hostile. You generally work with pleasant and professional clients and supportive colleagues who are always open to chewing over tricky cases.
At an event organised by the Association of Women Solicitors, I started talking to another lawyer who told me she was training to be a tourist guide and I remember thinking, 'I could do that'. I was looking to have a change; I was coming up to 60 and knew I could take my pension. I took a one-year course to become a City of London guide (and have since also qualified as a Westminster guide). A group of us have set ourselves up to offer walks. This year of course tourism has taken a hit, but is actually starting to pick up, with a lot of interest for interest shown lately in a walk called Slavery and the City that we have developed.
I do miss my ex colleagues and love hearing their news but am enjoying learning so much in a completely different area and having generally having a more relaxing and low-key routine!
LegalWomen magazine and resources are completely free, join the community here to keep updated