Jennifer Ison left law to set up a high-quality clothing company for petite women. Jennifer credits her legal training and experience for giving her the confidence and skills.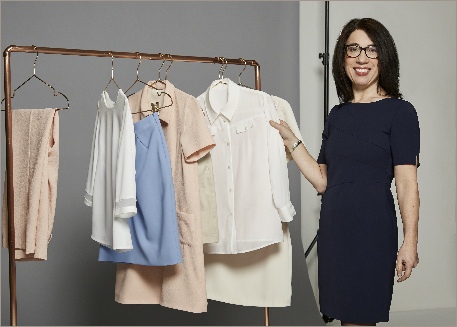 I came from a legal background; both my parents were lawyers (partners in a Liverpool practice) and my two brothers qualified as solicitors. So, it was no surprise that I too went down the same route, studying law at Leeds University and then following up with an LLM in International Law at Cambridge University. I started off my professional career in the mid-1980s as an articled clerk ('trainee solicitor' for the benefit of the younger lawyers!) at Nabarro Nathanson and went on to specialise as a corporate lawyer first at Norton Rose and then at Baker & McKenzie. I particularly loved the international element at B&M, dealing with clients from around the world and liaising with our overseas offices.
I then moved to Germany for a number of years with my family and worked for a large German law firm first as a legal translator (not without difficulty as I had only at that point spent 2 terms at language school…….) and then thankfully accepted the offer from the senior partner to work instead as a corporate lawyer on their international transactions. Childcare in Germany was not easy to find then and it was quite a challenge to balance a growing family and having a professional career.
My first entrepreneurial first step came about back in the UK through the legal profession, when I set up niche employment law practice with a former colleague from the City. Being based close to home was unbelievably helpful such as when my teenage children would forget their keys, I was reassured to know they could just pop into the office after school - problem solved.
Working as a lawyer in a large law firm is worlds away from setting up your own practice. I learned so much about business with my new practice, but it was a relatively safe first step as the product, legal advice was one with which I was totally familiar. By my early 50s I had been working as a lawyer for many years and was open for even more of a change in direction.
During my career as a lawyer I had always found it so difficult to find work clothes to fit. I am 5'1"and hated shopping as I needed to look smart, did not have much time to search and would often return from a shopping trip empty handed or with clothes that needed altering. My lawyer mother had experienced similar problems and it was quite depressing to see how premium clothing brands were still failing to cater for the smaller woman.
It was clear to me that there was a gap in the market, and I decided to take a serious look into the possibility of starting a new clothing line for petite women. I attended a short course at the London College of Fashion and subsequently set about step by step building the blocks to set up my own petite fashion brand. I did a lot of research on the type and aesthetics of the clothes I wanted to have in my first range. Once I had found my designer (through LinkedIn), I visited a number of manufacturers (all in London, I wanted it very much to be a British brand), attended fabric fairs, engaged a branding consultant and pushed ahead with the website.
It might seem quite a jump from law to fashion but there were several skills I had developed as a lawyer that were extremely helpful, such as, being resilient under pressure, good at research, attention to detail, the ability to draw on experts as well as a good understanding of my target market from working in the City. It was especially useful to be able to draft my own terms and conditions and not be daunted by the legal aspects of setting up a business.
I launched my online brand in 2017 with an opening collection of smart tailored clothes made from beautiful fabrics and perfectly proportioned for women of 5' 3" and under. All our clothes our designed and made in London. Customers have been delighted to have at last found a high-end brand of clothes which puts the smaller woman at its very heart and not just as an afterthought.
Jennifer Anne has had some fantastic PR and appeared in several women's glossy magazines as well as the national press. I am very proud to have set up a British brand focussed on providing a solution for women of 5' 3" which enables them to dress well and feel confident and stylish. It has been richly rewarding creating something from scratch, to take an idea and turn into a reality. If someone had told me when I was starting out as a lawyer in the 1980s that all these years later I would have moved from the world of law to the world of fashion, I would have been open-mouthed - I can honestly say that at that time it was nowhere in my intentions. I have no doubt though that it was my legal training and experience as a lawyer which gave me the confidence to set up and establish my own fashion business.
By way of postscript, it turns out that it is in fact not only law that runs in my veins - my grandma and two of my great aunts owned a couple of high-end dress shops in Dublin in Ireland, another great aunt was a seamstress for a couturier, one great grandfather was a pattern cutter and another a furrier. So, my advice to you is keep open to opportunities and take a look at what past generations in your family have done, you may be surprised where the future takes you!
LegalWomen magazine and resources are completely free, join the community here to keep updated