Find your own balance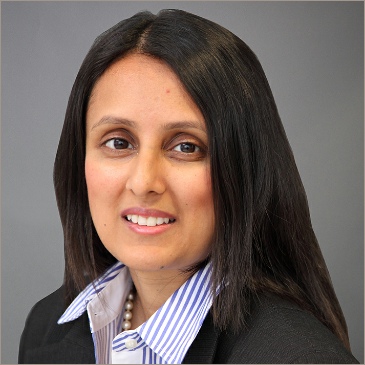 Anjli Vyas, Associate, Capsticks LLP discusses how she found her personal life balance between work and homelife. As firms have adjusted around the pandemic, now is a great time to think about your life and, if you want change, engage with your firm about your proposals, demonstrating how this can work for you and them.
From a tender age, I was surrounded by my hard-working mum who ran a successful childminding business from home for over 30 years. She provided the safety net for those working mums and dads when flexible working practices in the early 1990s were not common.
I saw how these women were managing to pursue their careers whilst having children. I was adamant that I wanted to have my education and make a successful career for myself but how that would work in practice with children – I had no idea, but I knew that I should not limit myself in my education and career choices.

I decided to move from local government which benefitted from flexitime to private practice in 2014. In the back of my mind, I did wonder whether I was giving up the chance of flexible working and being able to care for my children (which was still 2 years away) but I am glad I did not let those self-limiting thoughts prevent me from taking the right step in my career.

Pitter-Patter
During the two and half years before I had my little girl, I was surrounded by lawyer mums, many of whom were working reduced days or hours through flexible working arrangements. There were not many mothers working from home at this time.

The idea of coming back to work after a year of maternity leave, when I had focussed all of my time and attention on my daughter was daunting. How was I going to manage? Should I reduce my days or my hours? Will I make it home in time for the nursery pick up? What if I am late? Will she be ok without me? Will she notice if I am half an hour later (she is 1 of course she won't!) What I did know was that I wanted to go back to work and it was up to me to try and find something that worked.

The more I spoke to friends, mums at baby classes and work colleagues, I realised that there is no right or wrong solution and that everyone was doing something different that worked for them and their family life and in line with the ethos of the firm they were working for.

The return
After I had my daughter in October 2016, my firm had started to introduce the idea of agile working. This made finding my balance easier and smoother as the idea of agile working was coming from management and the firm was already forward-thinking and ready to listen to my proposal.

I decided to work two days from home and two days in the office. How did this help me in practice? It alleviated the pressure of travelling on the tube to the office every day and made the nursery run a lot less stressful. I could manage my workload around my working hours and in line with my client's timescales. The days in the office gave me the opportunity to come into the office and engage with my team and have those 'corridor catch-ups' with colleagues, social interactions which are so important to our wellbeing. I felt more in control of my work and home life balance, which in turn meant a happier mum for my children and a less stressed fee earner who was more productive. WIN WIN.
The second return during COVID
I had my second baby in August 2019 and just as we were starting to enjoy the baby clubs and get out more, COVID struck. Luckily, I was at home until September 2020 allowing me to look after my 9-month-old and 3-year-old. I am truly in awe of all the amazing women and men who managed to work whilst looking after their children and in most cases, home-schooling them.

In normal circumstances, when you come back from maternity leave, the exciting part is being able to leave the house and see your colleagues and engage in those adult conversations. Whilst the virtual offerings have been a lifeline, I do look forward to being able to go into work and see my colleagues in person.

Go find your balance
To all the working mums and dads out there, you can bring up children and progress your career – you just need to find your balance. Through the pandemic, firms have had to put in place IT infrastructure to support vast numbers working from home and firms and your line management would have seen first-hand how you have managed to efficiently work from home in a flexible manner.

Now is a great time to get thinking about what you might want your agile and flexible working arrangement to look like going forward and engage with your firm about your proposals and how this can work for you and them.
Anjli Vyas, Associate, Capsticks LLP
LegalWomen magazine and resources are completely free, join the community here to keep updated